Homebuyer Education Information
Buying a home is often times the biggest financial decision of one's life. Housing Resources is here to assist and prepare first time homebuyers in becoming successful homeowners. Homebuyers who attend a Homebuyer Education class are 30% less likely to have a foreclosure than those who do not participate.

By attending a FREE, in person, Homebuyer Education class you can expect to learn about the following:
Professionals roles involved in the home buying process
Recognize how your credit relates to home buying
Determine how much home you can afford 
Budget for the upfront and ongoing expenses of homeownership
How to obtain down payment assistance
Understand mortgage financing options
Shopping for a home
Learn about real estate and the loan closing process
Insurance options
Post purchase home care
Home Buyer Education Classes: In person and online
Upcoming in person Homebuyer Education classes
Classes are held in Grand Junction at Garden Village Apartments, Community Building,
2601 Belford Avenue, Grand Junction, CO 81501
Participants can register for classes with this link 
Saturday, September 24, 2022 from 9:00 a.m. – 4:00 p.m.
Saturday, October 15, 2022 from 9:00 a.m. – 4:00 p.m.
Saturday, November 12, 2022 from 9:00 a.m. – 4:00 p.m.
Saturday, December 10, 2022 from 9:00 a.m. – 4:00 p.m.
Saturday, January 14, 2023 from 9:00 a.m. – 4:00 p.m.
Saturday, February 11, 2023 from 9:00 a.m. – 4:00 p.m.
Our virtual option for homebuyer education is now only open for people who are living outside of Mesa County.
For more information contact Deb at (970) 241-2871 or e-mail her at Debh@hrwco.org
Colorado Housing and Finance Authority (CHFA) approved classes around the State. 
---
HBE online class information:
Housing Resources also offers HBE online ehome classes for $99.00 for the first person and $50 for each additional borrower.
ehome link
Each borrower must take the online class individually
The online class generally costs $99.00 for the borrower and $50.00 for each additional coborrower using the same provider
(a discount code is e-mailed to coborrower once borrower registers with a coborrower.)
Online classes require a post-class housing counseling session completed over the phone
Housing Resources has a Spanish Speaking HBE counselor
---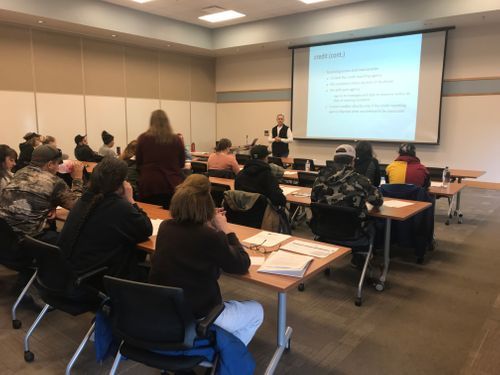 Post-Purchase Classes:
Housing Resources Post-Purchase Education Program offers group education to homeowners focusing on sustaining homeownership; teaching homeowners how to manage their property as an asset; how to use their equity responsibly all while learning how to maintain their properties to promote safety and prevent future costly repairs; provide education on community resources and opportunities for community involvement. Post-purchase education is a vital part of homeowner education, helping to support successful long-term homeownership.
---
Housing Resources also provides service to families through individual or group counseling services through the Housing Counseling and Education Program. While assisting families or individuals in enhancing home management skills for homeowners or renters, Housing Resources believes that people must become better educated and knowledgeable about the entire process. This approach will provide genuine long-term benefits for future generations while providing immediate benefits in upward mobility and stability in home management.
Services include:
Money management and budgeting
Use of credit and procedures for correcting credit
Home maintenance and repair with referrals to available resources
Assistance in obtaining access to home rehabilitation loans
Education and assistance in the use of utilities/energy consumption, e.g. Weatherization and LEAP program
Assistance in identifying other community resources for home improvement education and neighborhood improvement