Sustainability
One of our core goals is to continue to increase positive environmental impact. Energy efficiency has been the root of our organizational mission from the beginning when we launched as The Public Energy Information Office. We continue to honor those roots by improving the resource efficiency of the housing inventory in western Colorado, reducing its environmental footprint, and creating homes that are more comfortable and less expensive to operate.
Our mission is to provide housing services that create stable, sustainable Western Colorado homes. This mission is supported by our strategic goal to embody sustainability leadership throughout our programs, and look for opportunities to promote and enhance broader and deeper sustainable efforts in the communities we serve.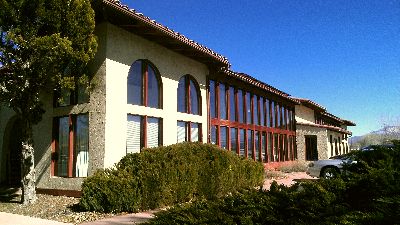 Our office building was the first existing building in Grand Junction to receive LEED, Leadership in Energy and Environmental Design, certification. In 2013, through a grant from Renewable Energy Trust and Xcel rebates, we installed a 29.645KW photovoltaric system on our office building. Ninety percent of our electrical needs are met through this new system.

Weatherization is our longest-standing program and has been providing cost-effective, energy efficient home improvements throughout western Colorado since 1989. The free service reduces the energy usage and carbon footprint of our housing stock, and helps our clients enjoy lower utility bills and more comfortable homes. Between 1994 and 2023 we weatherized over 7000 homes.

Our low interest loans for income qualified homeowners provide a means for necessary repairs to maintain a healthy and safe living environment and simultaneously improve energy efficiency, reducing energy and water usage. Examples of improvements include:

Replacing inefficient mechanical systems with new, more efficient equipment
Replacing windows with high efficiency, low-e thermopane windows
Repairing and/or upgrading electrical and plumbing systems

Since 2008, 73 homes built in this program have met ENERGYSTAR®. The use of high performance windows, high efficiency boiler/DHW systems, ENERGYSTAR® rated appliances, 2X6 walls insulated with cellulose insulation, and air sealing practices have reduced energy usage by 50 percent compared to homes built prior to 2008. Grants from Home Depot Foundation and Energy Outreach Colorado have made many of these efficiency upgrades possible, sometimes at no cost to the homeowners.

We have incorporated sustainability standards into our Asset Management Plan. Our rental properties have been upgraded with energy efficient heating systems, water heaters, appliances, water saving devices, lighting, and low-E windows. We also encourage recycling and provide tenant education regarding sustainable living measures.